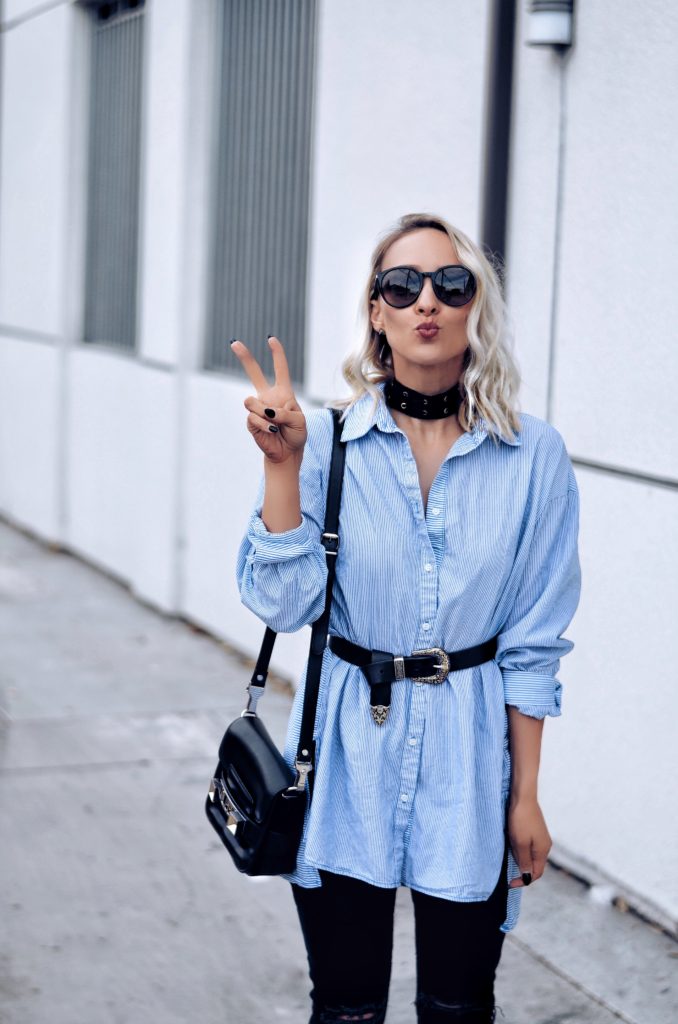 Well, 2017 was nothing short of amazing. I became a new mama, got flown to Germany for a brand partnership, attended New York Fashion week, and met SO many other milestones along the way. It's safe to say I am excited, and a bit nervous (is that weird?) for what 2018 holds.
I sometimes have an issue with holding myself to this standard that I HAVE to meet or I feel like I have to reach a certain milestone or I feel like a failure. That's not good for anyone and I know it's definitely not in line with all of the other positivity posts you may have seen from me and so many others so far this year. However, I like to keep it real with you guys. And if I am keeping it real there are so many times I feel like I am not enough, my blog isn't good enough, I don't have enough followers, or high enough engagement, or my outfit isn't even all the cute – the list goes on.
So I decided to reflect a bit. I love blogging. I love sharing outfits, beauty tips, and my life with you guys. I had to reflect on WHY I do this? It's certainly not to have a certain number of followers or to make a certain amount of money. The reason why is because it is something I am passionate about. In a sense, I am documenting my life and will be able to look back on all of this someday and smile. I'll be able to reminisce on how these short silver booties were so cute at the time haha.
Anyhow, so after having all of these thoughts and doing a bit of self reflection I've decided my theme for 2018 is going to be POSITIVITY. I can't tell you how many things in my life I have achieved because I had a positive outlook. I am not kidding, it's insane. It obviously involves a lot of HARD WORK as well, but that should be expected from anything you want in life. Keeping a positive attitude and not feeling like a complete failure and quitting every time something doesn't go as planned is key in becoming successful at anything. My job, my relationship, my blog, heck – even having my son. These have all come from me keeping a positive, confident, hard working attitude.
My plan to remain positive is really to be more aware of the times I am not. When I find myself being hard on myself over something silly I am going to stop myself and reflect on the positives that exist in that situation. And then, of course – I am going to plan on how to improve each situation so I can keep learning from my experiences.
So, while I may have certain goals set for myself this year in terms of actual tangible goals I am also setting the theme as positivity. I think the way to meeting my actual goals will be by following this theme.
Do you have any goals or themes set for yourself this year? If you get overwhelmed super easily with setting big goals try setting really small goals for yourself and each time you reach one you can set another. That's helped me in the past and definitely something I want to implement this year as well!
Here is a list of a few new things I am trying to implement this year:
Drinking water with lemon first thing in the morning
Drinking a green smoothie after my water before eating [most days…not everyday]
Being more calm…I tend to have high anxiety
Being more punctual…although today I was literally running into my sons doctor's appointment to make it on time, and I was still like 10 mins late- ha. This one is going to take a little work.
Being more organized. To jump start this I've cleaned out my closet and am going to continue doing so. It's so hard to be organized when I feel like I have stuff piling up around me. I am just getting rid of things I don't wear or use [or storing them] so I have the space to be more clear headed and organized.
Wishing you all a fabulous 2018!