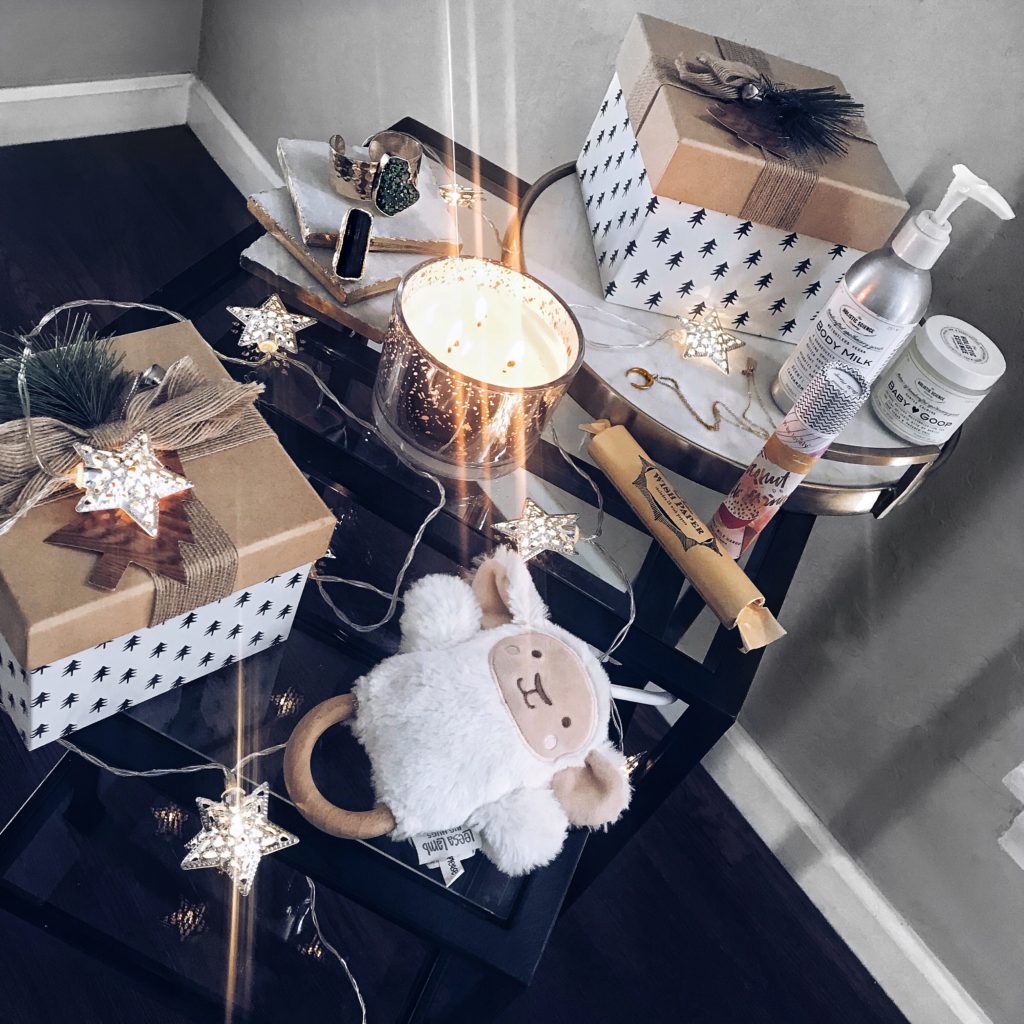 Hi guys! Can you believe it is already the week of Thanksgiving? I just look back at this year and can't believe how fast it has flown by! This time of year is so much fun! Spending time with friends and family and enjoying good food – doesn't get much better than that now does it?
I am going to be sharing some amazing Gift Guides with you all over the next few weeks – you can find them all under the HOLIDAY tab at the top of the site. I wanted to share a few more unique gift guides this year so I thought it would be fun to give my local babes something to follow and do a San Diego edition highlighting all of my favorite local brands and stores so you can shop small this holiday season!
Shop Online:
Love Tatum – You guys know I have been a long time fan of Love Tatum jewelry. Her items are timeless and last forever. I literally have a uvarovite ring (also a uvarovite cuff pictured above!) that I got from her in 2011 and I STILL wear it! You can shop her items online at lovetatum.com and score big time from Thursday 11/23 (midnight)- Monday 11/27 (midnight) with 40% off your entire purchase and get an additional 40% off of sale items! Enter code BLACK40 at checkout! *minimum $50 purchase
Erin Fader Jewelry – This local jewelry brand with so many covetable pieces to choose from will having you wanting to buy something for yourself and your bff. See me wearing her crescent moon necklace here and here. Her pieces are perfect for layering together or pairing with something you already have. Use code BF1730 for 30% off your order from now till Midnight on Cyber Monday!
Shoppe California – Known as a boutique jewelry collective featuring top female jewelers in California all in one place! Shop online here and be sure to use code 'BLINGME' on Black Friday and code 'CYBER' on Cyber Monday to get 25% off of your orders! PS – Free Shipping too!
Shop In-Person:
Kiko + Sven – This shop is located in my neighborhood and they seriously have the cutest gifts ever. Located at 3723 Adams Ave, San Diego CA 92116 this tiny shop has everything from jewelry, books, cards, candles, baby gifts – even plants! They're open Mon-Weds 11-6 / Thur-Sat 11-7 / Sun 11-5. Afterwards pop in to the Haven Pizzeria in Kensington for some yummy pizza and maybe a glass or two of rosé.
Pigment – San Diego locals know this as the mecca of unique gifts. If I ever have someone to buy for and am up in the air about what to go – I just pop into Pigment and almost always walk out with the perfect gift – and sometimes a thing or two for myself! Shop in person at 3801 30th street in North Park – they will be closed on Thanksgiving day but open on Black Friday and Small Business Saturday from 9am-9pm so you can get your shopping on! PS // Check out their Instagram to get an idea of what to expect!
Noon – Noon Design Shop is an adorable little shop located in Ocean Beach San Diego. A place I called home for 10+ years! They have everything from home goods, greeting cards, body products, and jewelry. Located at 4993 Niagara Ave, San Diego, CA 92107 – Afterwards take a little stroll down to the OB pier and grab a bite to eat the OB Noodle house!
The Holistic Science Company – This shop is dedicated to 'human, animal, and environmental goodness' by providing you with non-toxic and cruelty free apothecary goods. I've purchased their baby body wash and baby goop for myself and a few of my other mommy friends – I also use their hand lotion on the daily. Perfect for the person in your life who is super conscious about what they put in and on their body. This shop is also located in OB at 4852 Voltaire Street, San Diego, CA 92107, they are open 7 days a week from 10am-5pm. They always offer a free travel size with the purchase of any 5 products and this holiday season they will be releasing some brand new products and offering the travel size version of some of their best sellers. You can also shop online here and get $5.95 flat rate shipping on all orders over $100.
I hope I gave you guys some good ideas of ways to shop small this holiday season! Feel free to ask me any questions or add a suggestion of somewhere you love that is local to San Diego!
xx
Items pictured: Love Tatum ring + Cuff, Erin Fader Crescent moon necklace, The Holistic Science Center lotion and Baby goop, baby teether from Kiko + Sven. Boxes from home goods | Star string lights from home goods (similar here) | Nesting Tables from Pottery Barn | Candle