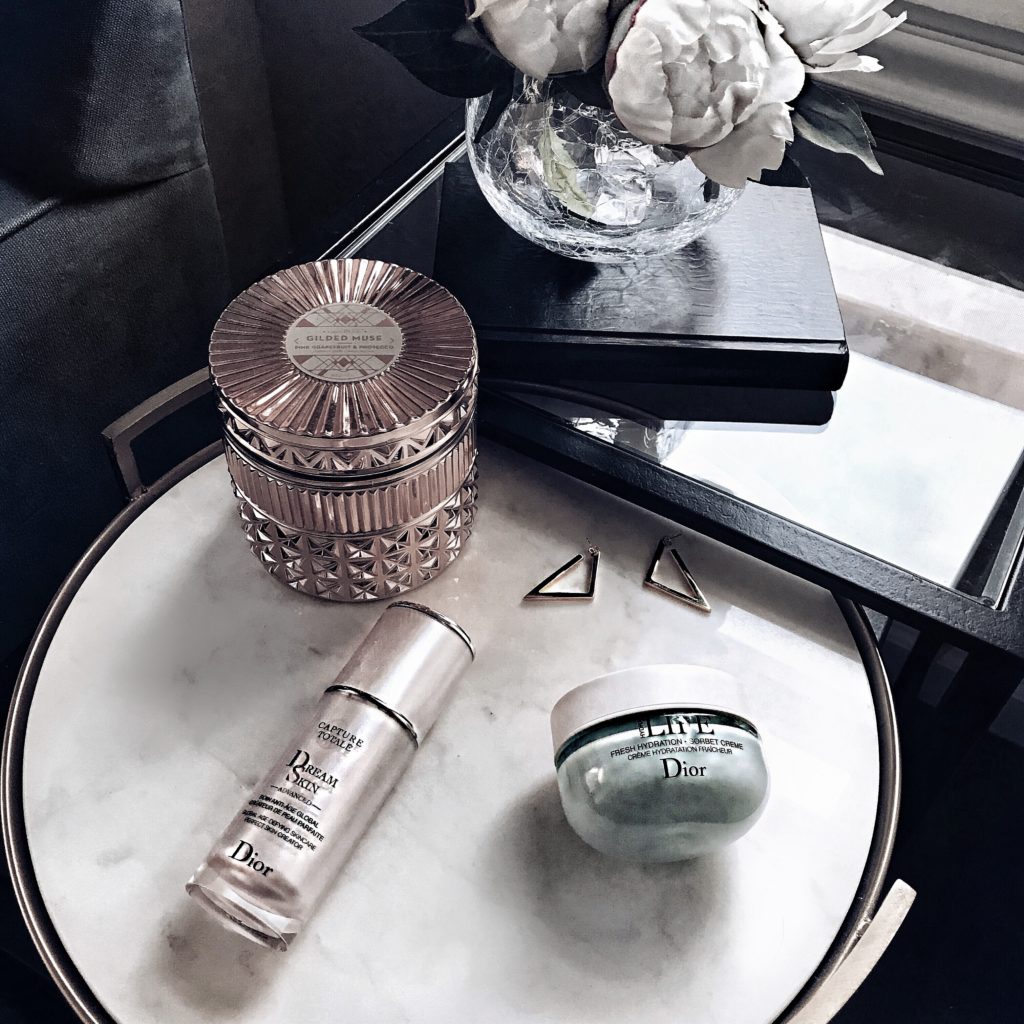 Let's talk skincare, shall we? Now, I LOVE a good skincare product as much as the next girl. So naturally I was super excited to test out these Dior products. Before providing you guys with my opinions on these products I wanted to give them a try to let them do their work. Now that I have been using these for the past two weeks I am excited to share my thoughts with you!
In the pink bottle is the 'Dior Capture Totale Dreamskin Advanced'. This is considered a skin 'perfector' to help blur imperfections, reduce the look of fine lines and wrinkles and just give you an overall beautiful glow. I've found that all the positive reviews that I've read online to be the real deal. As soon as I apply this product I can see a difference in my pores and overall evenness of my skin. I've been using it everyday under my foundation as a primer and it definitely does make a difference on how my makeup goes on. It makes my skin look much more smooth and overall 'pretty'!
I also love wearing this product on no-makeup days in combination with their Hydra Life (talking about that next) when I am looking for a little natural glow! I will say that the bottle claims that this product fades dark spots over time which I can't attest to yet but will let you guys know on my Insta Stories once the bottle is gone.
The Hyrda Life Fresh Hydration is the one that is the light blue color. The reviews online were a little mixed so I wasn't too sure how much I would like it but so far I am really enjoying it. The smell is amazing, it does smell rather perfume-y though so if you don't like scented skincare products this won't be for you. I've found the consistency to be light and creamy and the actual lotion to be super hydrating. I use it at night and most mornings under my makeup. As I mentioned above, I love combining these two products on days when I want to let my skin breathe a little bit! In my experience this product is a little lighter than a lot of night creams so if you are looking for a good overnight face cream I would grab something a little heavier.
What have you guys found to be your holy grail skincare products? I am always on the hunt for new products so please share!
I did receive these products complimentary from Dior Beauty however all thoughts & opinions are my own and truly reflect how I feel about these products.