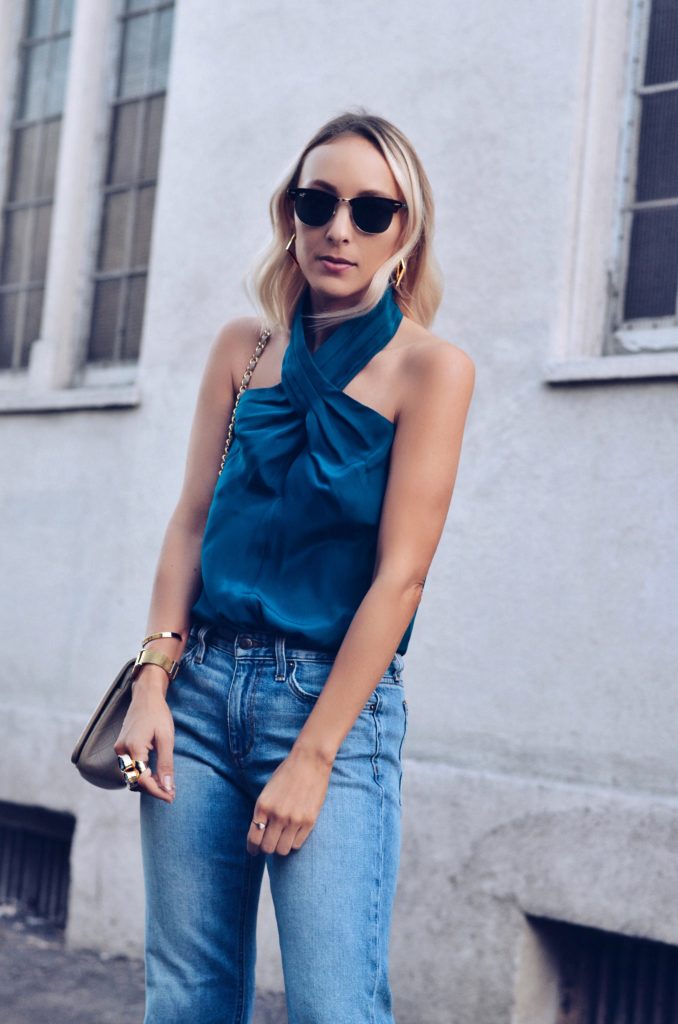 Hi guys! I hope you all had a fabulous weekend! I love the weekends because that's when I get to spend time with my little family and just relax! This look was from Friday night when we went out for an ice cream date at our favorite ice cream spot up the street. I thought I would pair this pretty silk top with a pair of jeans for a casual but still somewhat dressed up look. I love pairing dressy items with pieces that aren't typically seen as being 'dressy'. Just something about the juxtaposition; kind of like pairing a girly dress with a leather jacket!
On another note, I am also playing with incorporating more color into my wardrobe this fall! I love the way this dark teal top paired with other neutrals I already have in my closet. When shopping for fun pops of color for your wardrobe this fall here are some good things to keep in mind:
Buy colors that look good with your skin-tone. I hate to say it but not everyone looks great in bright red or chartreuse! Of course, what ultimately matters is that you feel confident in what you are wearing. So regardless of what I or anyone else says, if you like the color – wear it. And if you want to find a color that compliments your skin tone best, this InStyle article does a great job at helping you identify what colors work best with cool, neutral, or warm skin tones.
Incorporate colors that compliment the rest of your wardrobe. It's a great idea when shopping to always reference what you already have in your closet. Think to yourself what you can wear that would compliment that bubblegum pink coat you are about to purchase. Will you have to purchase 10 new items just to be able to wear this coat? Or do you have items in your closet that will be able to incorporate nicely with your new pop of color?
Stay away from trends. I do think it is okay to buy a trend color item here or there but don't drop a large amount of $ on something that you are into now and might not be into next season. Red is always a classic go to color, and other colors that you truly love will always be classic to you so those work as well!
Anyhow, I hope these tips help you guys when you are out shopping for new fall pieces! Do you have any tips you like to keep in mind when shopping for a stand-out piece in your closet?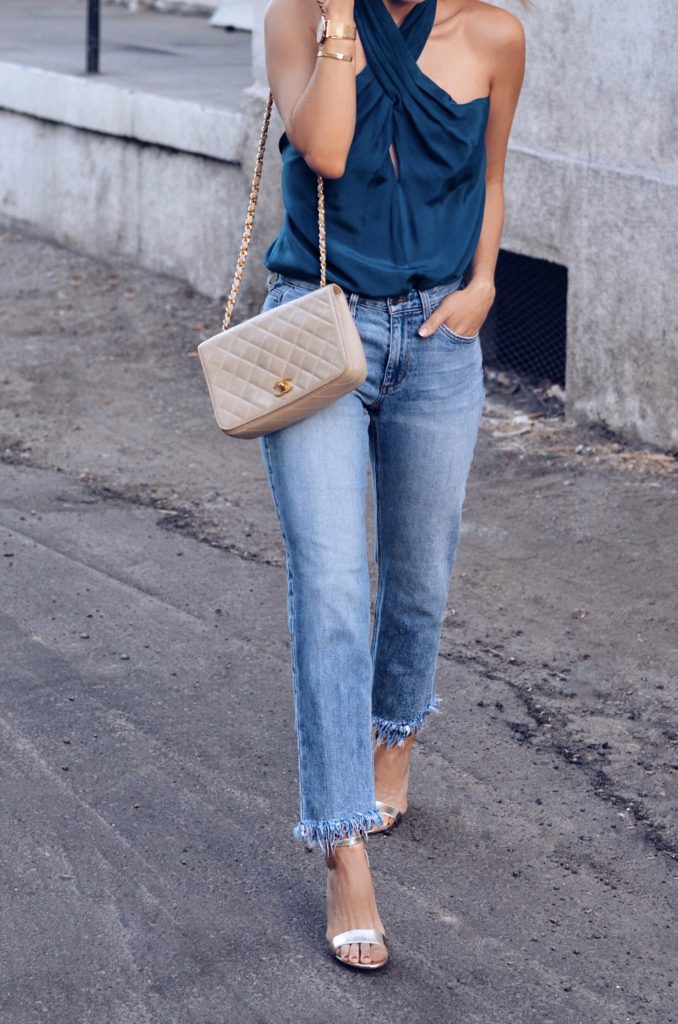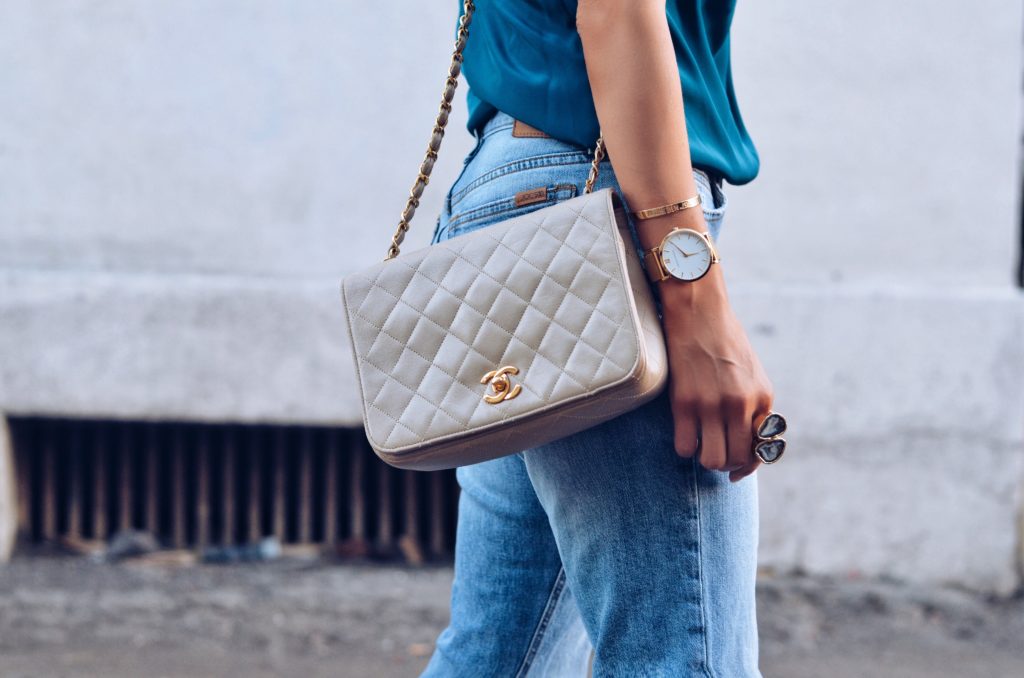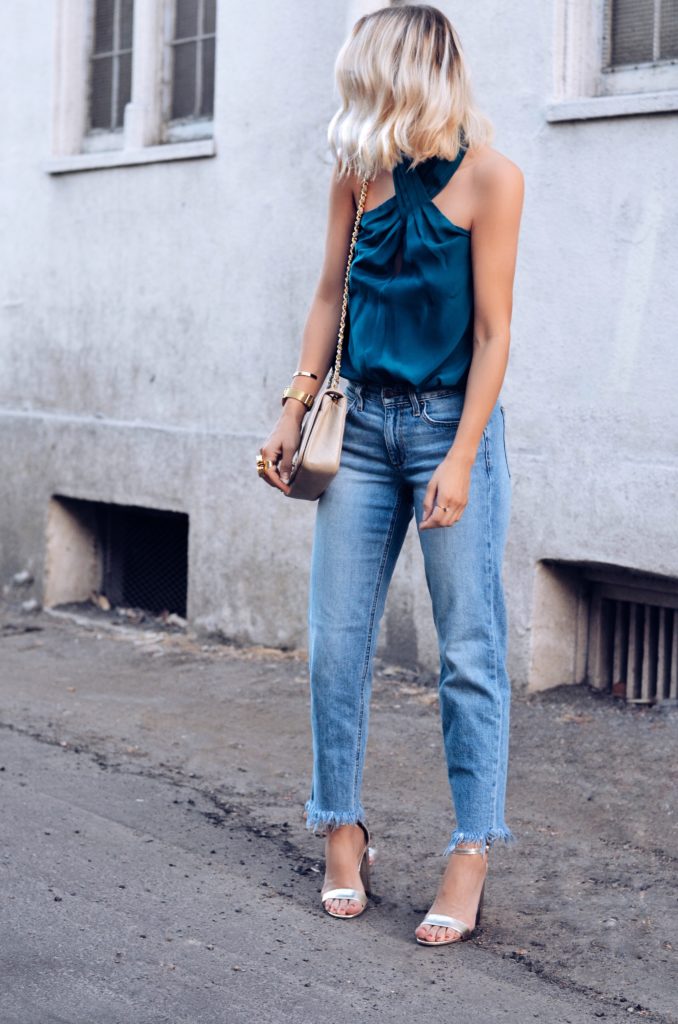 Top: Amanda Uprichard | Jeans: Joe's | Shoes: Steve Madden | Bag: Vintage Chanel (Similar here, affordable similar option here) | Geode Ring: Love Tatum | Earrings: Taylor Wilkinson | Sunglasses: Ray-Ban (affordable similar option here | Watch: Larsson & Jennings | Bracelet: Coordinates Collection (use code LAURENL15 for 15% off until 12/19/17)