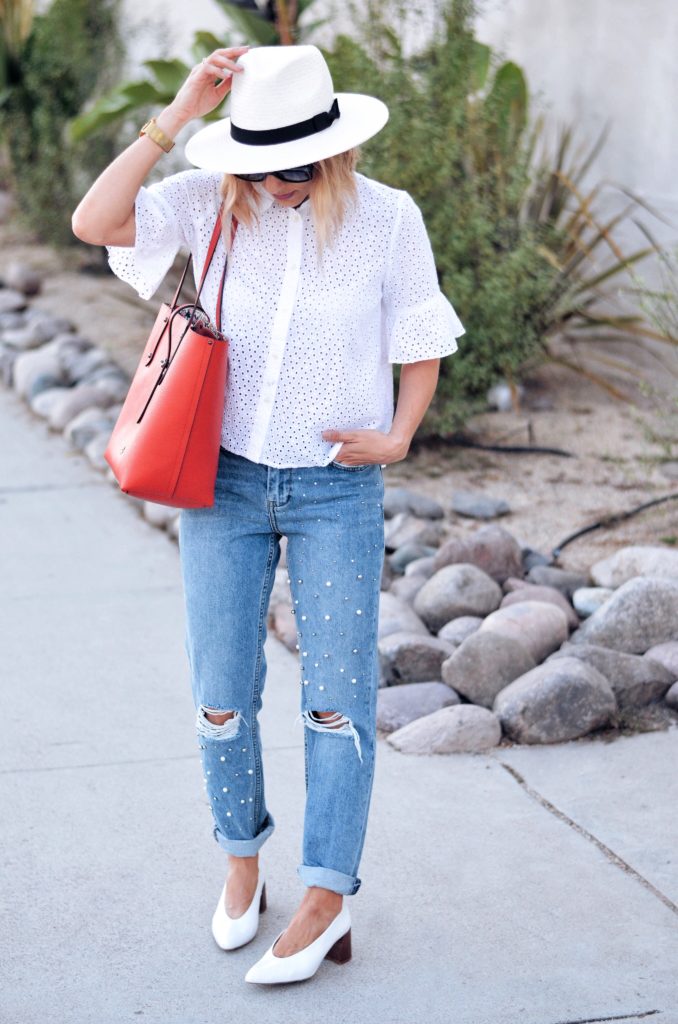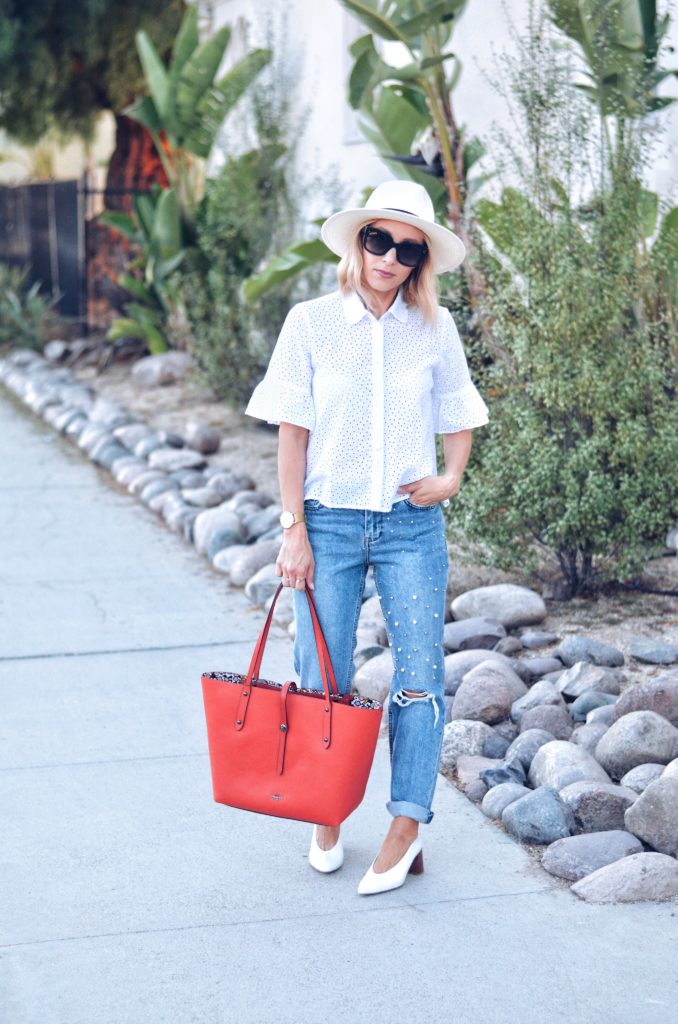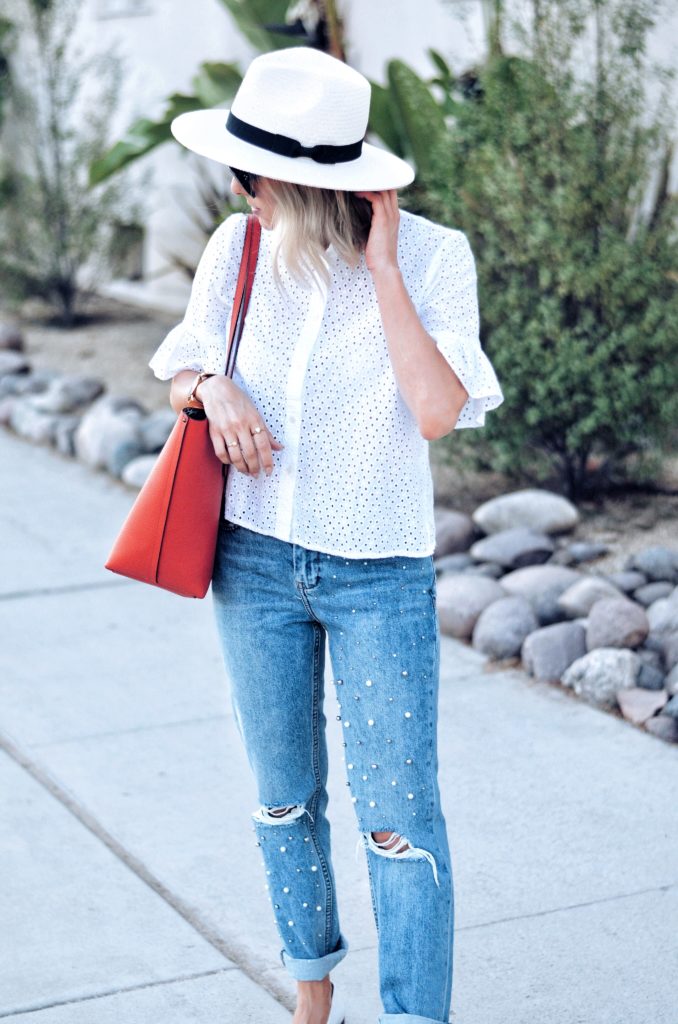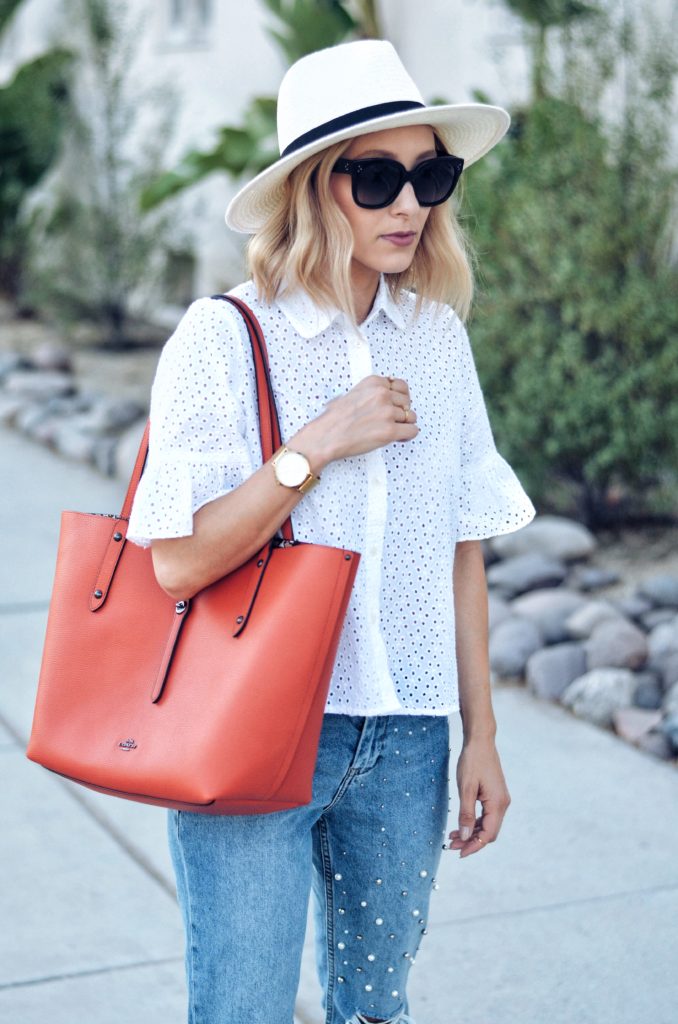 This might sound really bad but the attire that generally goes along with certain holidays has always drove me a bit crazy. I feel horrible saying that but it's just the truth. St. Patty's Day, New Years Eve, Fourth of July, etc. Don't get me wrong – I often like to participate in these holidays and celebrate in my own way I am just not a fan of going all out, dressing in green from head to toe and getting wasted. Ya know? This year for Independence Day I thought I would share a few tips on how to dress festive but not go over board and be a walking American Flag – you know, if you aren't into that sort of thing.
1. A darling little white dress – This is one of my favorite Fourth of July looks. I mean, first of all – who doesn't like a darling little white dress in the middle of summer? Dress it up with a straw tote, chic sandals and you're off. This one doesn't necessarily tie in the red or blue but it is a more subtle way to dress for the occasion. If you want to add a little more pop you can add this adorable red dangly earrings to the ensemble. Also, keep in mind you can do any other variation of this outfit – for example you could do a navy dress with white sandals and a white bag.
2. Cut-off shorts and a red or a blue one piece – This is your Baywatch moment. Ha, okay maybe not Baywatch but of course that is the first thing I think of when I imagine a red one piece. I like this outfit for someone who is going to the beach or a pool party for the Fourth of July. You might style it with cool gladiator sandals or slides in black or gold and of course some cute oversized sunnies.
3. Denim bottoms, white top, and a red bag – This is similar to what I am wearing in these photos. Only you could switch it up and go for shorts, or skinny jeans with a white flowy top and a cute little red cross body bag. Of course, this tote is pretty much perfect if you are going to the beach or anywhere you want to take a ton of stuff.
4. Red lipstick – This is a no-fail way to incorporate a little pop of red into your holiday look. If you aren't big on wearing red clothing like me (for some reason I just don't know if it compliments my skin tone) but love a pop of red you could do it with your lipcolor! I love this liquid lip for long staying power.
5. Red Accessories – Okay like the red lipstick this one is similar to adding a pop of red to your white or blue ensemble without actually wearing red. For example, you could do red sandals or a red bag with any look. Try adding a red bag to white ripped jeans and a chambray top and you are instantly festive.
What do you guys think, do you have a go-to look for holidays? Please share!
PS – Shop my look here: